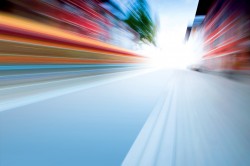 What is age, but a number we are not allowed to ask about; specifically during an interview? So from my photo and tenure of my company you can probably calculate that I am 50 something. I am married with two wonderful children, my son Zachary and daughter Jessica. My wife Audrey and I raised our family on Long Island, and as you can see from some of my social network pics we are avid skiers. Friends and family have termed me as something of a "gym rat". I guess I'd agree. Most of that activity takes place in the wee hours of the morning before I hit the office and computer for a day of networking and interviewing across the automotive landscape.
As a graduate of SUNY Buffalo I was headed towards a career in education when a teaching position I'd been promised fell through at the end of the summer. Without another teaching position available and wanting to go to work, I accepted a job as a salesmen with a manufacturing company my father was a partner in. I enjoyed sales, but not my dad's partners.
In the 20 years I have known Jack Young, he has not only placed me with a top flight dealer group but also found me numerous exceptional candidates for positions I was looking to fill. I have referred countless people to him over the years and will continue to do so.

-- Senior Consultant International Automotive Firm
I interviewed for several positions and in 1982 I accepted a district sales manager position with Sun Electric Corporation. Sun was at that time the premier manufacturer of automotive testing and diagnostic equipment. For two years running I was the number one sales producer for the company. Sun offered a matured sales training program that put me in a very entrepreneurial mindset.
Jack Young Personnel Services, Inc. is an evolution that began as the combined brainchild of mine and Howard Kesten (current President\Owner APA Search, Inc.) We began the enterprise in 1987 and I have directed Jack Young Personnel officially as an independent business since 1990.
"I have consulted Jack Young in the past with regard to placement of needed automotive personnel at the executive level for clients of ours. Jack has always handled search and placements for us in a thoughtful and professional manner, and we have never been disappointed in his efforts. Jack knows the automobile business well and has always done a good for us at accessing talent with appropriate skill sets, consistent with the needs of our clients.

-- James J. Kaufman, Founder, President and CEO of The Kaufman Group, LTD."
I am personally involved in each and every search assignment that my firm manages. It is with the utmost respect and care that I initiate the introductions of client to candidate. Knowing that bringing a new manager to a client company and having a talented automotive professional move from one career position to a new opportunity is a life changing event. The satisfaction that I feel when I speak to a manager I've placed who is now a hiring authority at the company I placed him\her at is truly indescribable. That is the strongest measure for my success in this business.
"I have utilized Jack's services for several of our dealerships for over 20 years, and he has consistently brought our group top flight management talent..."

--VP\Partner New York Tri-State multi-franchise operator of luxury automobile franchises.